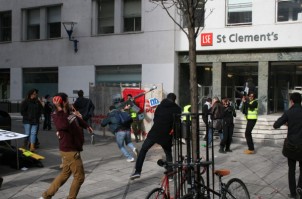 A violent clash has erupted at LSE after a protest by the LSESU Palestine Society on Houghton Street was attacked by "a small group of organised individuals" who threw water bombs and knocked over property.
The confrontation took place as the Palestine Society were re-enacting an Israeli check-point as part of their activities for 'Israeli Apartheid Week'.
An official statement by the LSE Students' Union said: "Whilst peacefully re-enacting an Israeli checkpoint and talking to students about the issue, a small group of organised individuals ran towards members of the LSESU Palestine Society and threw water bombs which hit several students and knocked over property of the Palestine Society."
In the melee that ensued, eye-witnesses have said that one individual was punched in the face, although London Student has not yet been able to verify this.
LSE security were quickly at the scene, preventing the clashes from escalating into anything more serious.
The LSESU statement continued: "The Students' Union believes in the right to peaceful protest but condemns the violence towards the LSESU Palestine Society. The safety and welfare of students is of the utmost importance and the Union will be investigating the matter immediately in conjunction with the School."
The individuals responsible for throwing the water bombs have not yet been identified.
Amateur video footage of part of the incident can be viewed here.
More info to follow.
If you were at the scene and would like to provide any information relating to the incident, please get in touch at [email protected]